Kids personal trainers – what you should know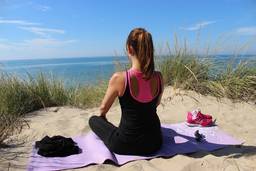 Kids personal trainers are fast becoming very popular and it's not surprising given that we're living in a world where childhood obesity and juvenile type 2 diabetes rates are on the rise. In fact, in 2014/15 a survey found that 1 in 9 children in New Zealand, aged between 2 and 14 years old, are obese and a further 22% of the kids surveyed are overweight.
Diet and exercise are very important factors for preventing and managing obesity and conditions such as type 2 diabetes, which is why a personal trainer may be able to provide the education kids need.
If your kids don't like team sports – perhaps it's time to consider hiring a personal trainer.
Before you choose a trainer
If you're choosing a personal trainer for your child, ensure the trainer is certified and nationally recognised – or has a degree in a fitness or exercise related field. They should also have experience working with young people – from children through to teenagers. You may want to check they have completed a working with children check before you hire them.
Professional personal trainers for kids will also have an emergency procedure in place if anything is to go wrong, a first aid certificate and know CPR. They will likely produce a waiver for the parent or carer (and sometimes also the child) to sign in the case of negligence.
Before you choose someone to train your child, it's important to make sure that your child gets along with them. Organise for them to meet and discuss what is needed, because the more your child likes the trainer, the more likely they will be to look forward to personal training and do the work required.
Once you choose a trainer
Personal trainers for kids evaluate the child's needs and fitness levels before working with them to set goals they may be able to achieve together. They will cover things such as diet, suitable exercises, general health information and have the necessary skills to help your child meet and exceed their goals. Remember – the child is the client, even if you pay for the trainer, so their needs will always come first.
After the first session, check in with your child to see what they got up to and ask how they enjoyed it - this will help you guage to see if they will achieve their goals and if this trainer is right for them. There are plenty of trainers around, so if this doesn't work out, keep searching until you find a good fit for your child.
Now you're probably wondering where you can find a kids personal trainer - search kids personal trainer on our directory.