Bring the good of lockdown with you into level 2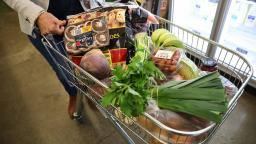 OPINION: There are a lot of advantages when you work and spend more time at home. A lot of households ate better than ever during lockdown. The trick is continuing the habits now we are getting back to normal. Nailing your family's food and nutrition is one of them. As we transition to life as we knew it, reflect on your eating patterns and how they changed during the lockdown. It's easy to focus on things like "I grazed too much" or "I ate too much baking". But we want to bring the good forward, so focus on the positive changes. You may have spent more time preparing meals; chewed your food more, increased your vegetable intake or responded to your hunger cues instead of designated breaks. It would be great if we could copy and paste the positive lockdown changes to our "normal" lives.
One thing we had more of during lockdown is time at home.
And considering a common complaint is that there isn't enough time, and assuming we take on similar commitments, we may need to be realistic with our copy and paste method.Intuitive eating practices are hard to apply if you are given one 30-minute break a day.
This is a classic conundrum and I get it. Eating in your break, even when you're not hungry may prevent you from getting hungry later on. And depending on whom I'm working with, I may suggest eating anyway.
But if going forward you want to continue responding to your hunger cues, start the process by bringing easy to eat meals or snacks to work i.e. bircher muesli, chia pudding, nuts etc.
You still need to be present while eating the food and I appreciate it may suit those who can decide when they get to take a breather.
I am not suggesting unstructured eating, skipping meals or extended fasts. Simply encouraging responding to your innate hunger cues while navigating social or professional pressures to eat at a certain time - if you can.
And talk about eating well during lockdown.
No doubt a lot of people have been experimenting in the kitchen. Unfortunately, some may not be able to spend an hour and a half on meal preparation each night once a commute is reinserted. A sad reality.
You might choose to try two new recipes during the week and then revert to your classic go-to's. It's a happy medium and after a few weeks you will get a feel for how much time you actually have, if you continue to prioritise eating well.
The application of the positive practices in your life post lockdown may be difficult, but we have an opportunity now to plan what and how we want to eat going forward.
The time we spend planning, trialling recipes and cooking food for the freezer now guards against stressing over preparing meals in the future and letting yourself be tricked into thinking it's easier to pick up takeaways.
Takeaways may seem an easier option when you are busy, but with a bit of organisation they don't need to be.
Articles related to your search: