What your partner eats, and how it impacts you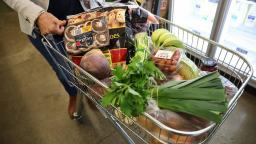 This isn't about the 'The Game Changers' documentary. But yes, I have seen it. It's about what your partner eats, and how it impacts you. Very different, or maybe not, to veganism versus meat eaters. Relationships can be great, especially when they involve a whole heap of food; cooking and eating together, Sunday morning brunches and going out for dinner. And happy days, many couples are aligned in their food choices.
Potentially unhappy days, one of the duo has a limited palate; only eats takeaways, or starts on 'keto' when you love hot chips.
Does it matter?
Well, I'm sure in the early stages it's not a big deal because of love and stuff.
But a lifetime of food you dislike or making multiple dinners is bound to get old.
In no way am I suggesting couples should eat and enjoy the same food, that's outrageous, you are your own person.
But we all know how easy it is for your partners food choices to start becoming your food choices. Just saves time right, saves heated discussions right.
So if you want your partner around long term, but not necessarily their taste buds, what you eat together is important, especially if your taste buds are health conscious but theirs aren't.
You want your food to tick the nutrition and the flavour box. What this means for each person is likely to be different, that's okay.
Find a time to sit down together to make a meal plan and from that establish a shopping list and who's cooking what.
Each person could pick their night where they chose a meal.
You could make 'build your own' kind of meals i.e. tacos or wraps.
You might cook enough of the food you both eat, and each person adds their own things i.e. more vegetables.
Also consider the chef, their cooking capabilities and time availability. We want this to work so it needs to be realistic.
If neither of you enjoy cooking or even thinking about food, something like 'My Food Bag' or 'Fresh Start' could be a good option.
We know one way to a person's heart is through their stomach, but if you've found a different route; nice work - just don't downplay the importance of the food you chose to eat together.
So, not an article about veganism, more so one about a relationship game changer.
Articles related to your search: