Why it's OK to treat yourself during lockdown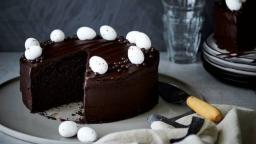 OPINION: Treats – what are they, can I have them and if so, how often? The answer is - it depends; yes, and you're an adult so as much as you want. More time at home during lockdown may mean more time at the pantry thinking about food. The result of this could be trialling new recipes, experimenting with new flavours and having quality interaction within your bubble. Or it could be grazing on whatever is around, increased cravings or eating as a result of everything but your hunger cues. Whatever changes you have noticed throughout the lockdown it's OK. There will be a reason for them and good news, you can probably identify the reason, if you want to.
Any food you love should be a part of your life. And understanding the inclusion of these foods is the icing on the healthy lifestyle cake.
Your cravings for treats may be a signal you're missing something in your diet, such as quality carbohydrates.
But if you are eating foods out of habit or craving as a result of restrictive or unstructured eating patterns, then some changes may serve you well.
Maybe you're craving sweets. This is extremely common and especially around 3pm, in the evenings or dare I say it, before us girls get our periods.
Reflect on your previous meals and see if anything is missing, especially quality carbohydrates. i.e. oats, quinoa, lentils, grainy bread etc.
If there are little to no quality carbohydrates, try adding a little the following day and assess your cravings at the same time – maybe there's a link?
And ladies, track your cycle, it may provide insight to why and when you want to eat 3kg of chocolate.
If it's salty or fatty foods you want, think about your hydration and how much water you have had. If you are notoriously bad at drinking water, aim to add an extra 500ml per day and then assess cravings.
Our bodies want to be nourished well so they can look after us. Out of respect for our bodies, I will always encourage putting good fuel in.
But sometimes our soul needs to be nourished too. Out of respect for this, I encourage the inclusion of foods you love; being present when you eat the food and stopping when you are satisfied.
The past few weeks have been an unforeseen curve ball which no doubt has derailed some well-oiled machines.
These machines may need to park up for a bit of maintenance to identify the changes in their eating and find the reason why. This will help get the machine chugging again and maybe even faster than before
Or, I guess it needs to be said - if your biggest complaint is you ate too much banana bread during lockdown, you're pretty lucky.
Articles related to your search: